Cooking Classes for everyone…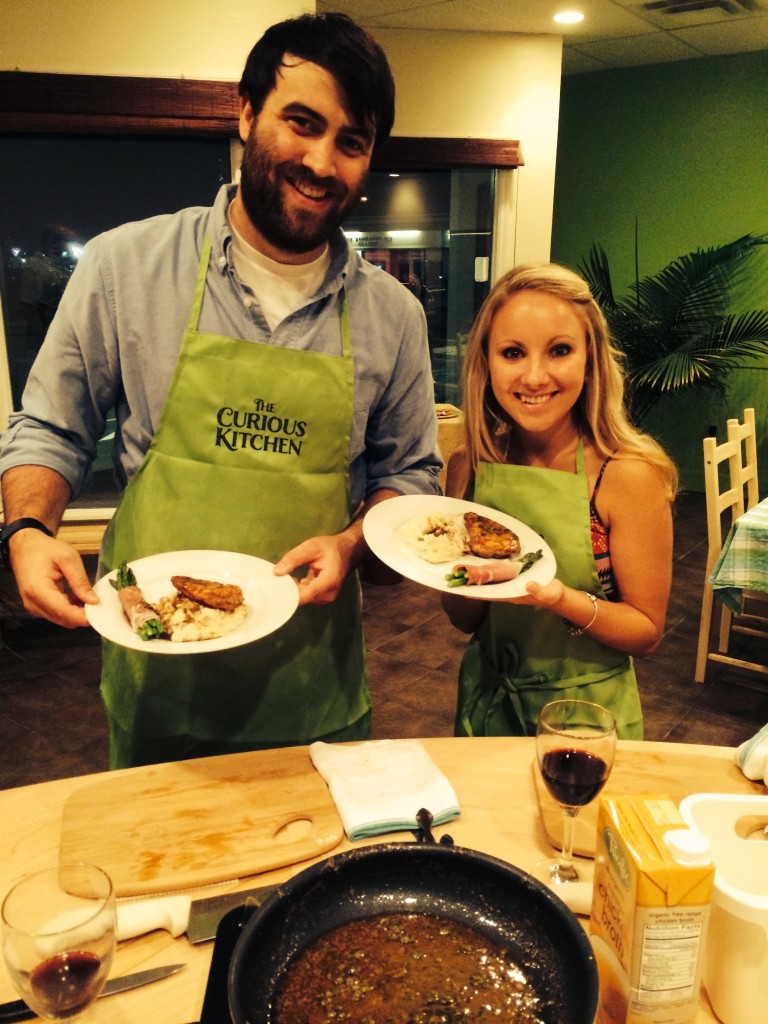 Join us for a cooking class full of flavors and friends! We welcome everyone, regardless of skill level, to enjoy a 3-hour hands-on cooking class at The Curious Kitchen. Sign up today!
The first part of our classes take place around a custom-built instructional table, providing optimum view of the chef/instructor.  Each guest is equipped with their own cutting board, cooking station and "mise en place" (a French word for Prep).  We keep our classes at a maximum of 12 participants, to ensure a quality experience.  After the meal is prepared, guests sit down to enjoy the food they've made! 
Our diverse class schedule ensures there is something for everyone- single specialized classes, kids classes (and cooking camp), 2-day workshops, and a 6 week Beginner Series.
A class at The Curious Kitchen costs $65 per person and includes fresh ingredients (for selected menu) and beverages (including complimentary wine pairing or specialty cocktail with each Adult class). Kids classes are $50 per person. The Curious Kitchen  provides each student with necessary equipment and supplies at every class.
Want to have a Private Cooking Party?
Private cooking parties are a unique way to get your friends/family/co-workers together for a culinary night of cooking & eating. Private classes are reserved for your group only. Whatever the occasion; birthday party, team building event, or just a fun night out with friends, we can accommodate your group at The Curious Kitchen. You pick the date and your menu from the options below, and we take care of the rest! Don't see what you'd like to make, just let us know and we will customize your party.
*Private parties require a minimum of 10 people and start at $65/person for adult parties and $50/person for kids parties.
Adult Cooking Class/Party – Theme Menu Choices
Choose one appetizer, soup, salad, entree & dessert = $65.00+/person
  * * * * *  
Variety
Appetizers
Crispy Asparagus and Parmesan Straws Warm Brie Cups with Grapes and Toasted Pecans Shrimp wrapped in Puff Pastry with garlic Oregano Butter  
Soups
Curried Zucchini Soup Asparagus Soup with Brie Croutons Carrot & Saffron Soup with Crème Fraiche Butternut Squash Soup  
Salads
Hearts of Palm, Hardboiled Egg, Pickled Red Onion & Warm Pecan Goat Cheese Round Butter Lettuce with Roasted Pears, Candied Pecans and Blue Cheese Arugula, Endive and Fennel with Shaved Parmesan and Citrus Vinaigrette  
Entrees
Cashew Crusted Chicken Breasts with Roasted Red Pepper Sauce and Parmesan Risotto Potato Crusted Salmon with Whole Grain Mustard Sauce on a bed of Sautéed Spinach Garlic Marinated Steak with Wild Mushroom Ragu atop Creamy Garlic Polenta  
Desserts
Individual Pineapple Upside Down Cakes Warm Apple Tarts with Caramel Sauce and Vanilla Bean Ice Cream Flourless Chocolate Cake with Fresh Raspberries and Honey Whipping Cream     * * * * * 
Asian
Appetizers
Shrimp Spring Rolls with Cucumber, Basil & Mint Chicken Pot Stickers with Orange Glaze Honey and Walnut Coated Shrimp Skewers    
Soups
Won Ton Thai Chicken-Coconut Corn Egg Drop Soup  
Salads
Crunchy Mango Salad with Cucumbers and Peanuts Spicy Beef & Noodle Salad Chinese Chicken Salad with Sesame Ginger Dressing  
Entrees
Teriyaki Salmon with Forbidden Rice Coconut Chicken with Bell Peppers, Scallions and Rice Noodles Shrimp & Chinese Vegetables over Jasmine Rice Beef with Broccoli over Sticky Rice  
 Desserts
Fruit Sushi with a Mint Dipping Sauce Passion Fruit Cheesecake with Coconut Crust Mango Upside Down Cake with Green Tea Ice Cream   * * * * *  
French
 Appetizers
Mini Brie Cups with Grapes and Almonds Dried Figs stuffed with Goat Cheese wrapped in Pancetta Puff Pastry Shells filled with Olive Tapenade    
Soups
Creamy Potato & Leek Classic French Onion with Havarti Cheese Crouton Cream of Wild Mushroom Soup with Crème Fraiche  
 Salads
Roasted Sweet Pepper Salad with Butter Lettuce and Artichoke Hearts Spring Mix with Bacon, Hard Boiled Egg and Goat Cheese Grilled Romaine with Tomato, Scallions and Creamy Caesar Dressing  
 Entrees
Lamb Chops with Lemon Mint Butter and Carrot Puree Salmon Fillets with Leek Cream and Grilled Asparagus Steak Au Poivre
(Green Peppercorn Brandy Sauce), with 
Mashed Potatoes Almond Crusted Chicken Breast with Lemon White Wine Sauce and Basmati Rice  
 Desserts
Chocolate Souffles Warm Berry Tarts with Honey Whipping Cream Profiteroles
(Creampuffs)
filled with Vanilla Pastry Cream, topped with Chocolate   * * * * *  
Italian
 Appetizers
Grilled Asparagus wrapped in Prosciutto Crostini with Warm Fresh Mozzarella and Prosciutto with Crispy Sage Eggplant Rolls filled with Ricotta, Kalamata Olives and Basil with Balsamic Reduction  
 Soups
Italian Sausage & Lentil White Bean with Escarole Tortellini en Brodo
(Chicken Broth, Tortellini and Spinach)
 Salads
Caprese Salad with Roasted Red Peppers Classic Caesar Salad with Garlic Parmesan Croutons Arugula, Fennel and Orange Salad with Shaved Parmesan and Truffle Oil  
 Entrees
Pasta Alla Checcha
(Angel Hair pasta with Tomatoes, Basil, Capers, Garlic and Olive Oil)
Grilled Balsamic Glazed Chicken with Herb Risotto Garlic Marinated Steaks with Wild Mushroom Ragu with Creamy Polenta  
 Desserts
Tiramisu Parfaits with Cocoa Dusting Ricotta Cheese Cake with Fresh Berries Fresh Berry Crostata with Frangelica Whipping Cream   * * * * * 
Kids Party – Theme Menu Choices
 Menu #1 – Italian and/or Pizza and Salads
Caesar Salad with Parmesan Croutons Individual Pizzas with Assorted Toppings of your Choice Chicken Parmesan with Garlic and Olive Oil Pasta Vanilla Cake with Strawberries and Whipped Cream  
Menu #2 – Asian
Shrimp Wontons with Apricot Dipping Sauce Chinese Chicken Salad with Ginger Dressing Chicken Teriyaki with Sticky Rice Green Tea Ice Cream  
Menu #3 – Mexican Feast
Tortilla Soup with Avocado and Cheese Chicken Quesadillas with Salsa & Guacamole Shrimp, Chicken or Beef Tacos – Soft or Crispy – with all the fixings! Churros with Honey Whipped Cream  
Menu #4 – Just Desserts
Individual Apple Crisps with Vanilla Ice Cream Seasonal Berry Tarts with Honey Whipped Cream Chocolate Cupcakes with Chocolate Frosting & Decorations Chocolate Fondue Fountain with Assorted Items to Dip  
Menu #5 – Complete Menu from Start to Finish
Choose one item from each of the following categories:  
Soups
Chicken Noodle Soup Minestrone Soup Roasted Tomato Soup with Parmesan Croutons Cream of Mushroom Soup  
Salads
Chinese Chicken Salad Wedge Salad with Blue Cheese & Bacon Chopped Vegetable Salad with Balsamic Vinaigrette Green Salad with Buttermilk Ranch Dressing  
Entrees
Grilled Pesto Shrimp over Pasta Tilapia with Lemon & Herbed Rice and Broccoli Cashew Crusted Chicken with Mashed Potatoes and Glazed Carrots  
Desserts
Chocolate Covered Strawberries with Whipping Cream Chocolate Chip Cookie Ice Cream Sandwiches Individual Chocolate Cupcakes to Decorate with Assorted Toppings
Don't see what you want?
Let us know what you want & we will customize your party!!