Cooking Classes for Everyone…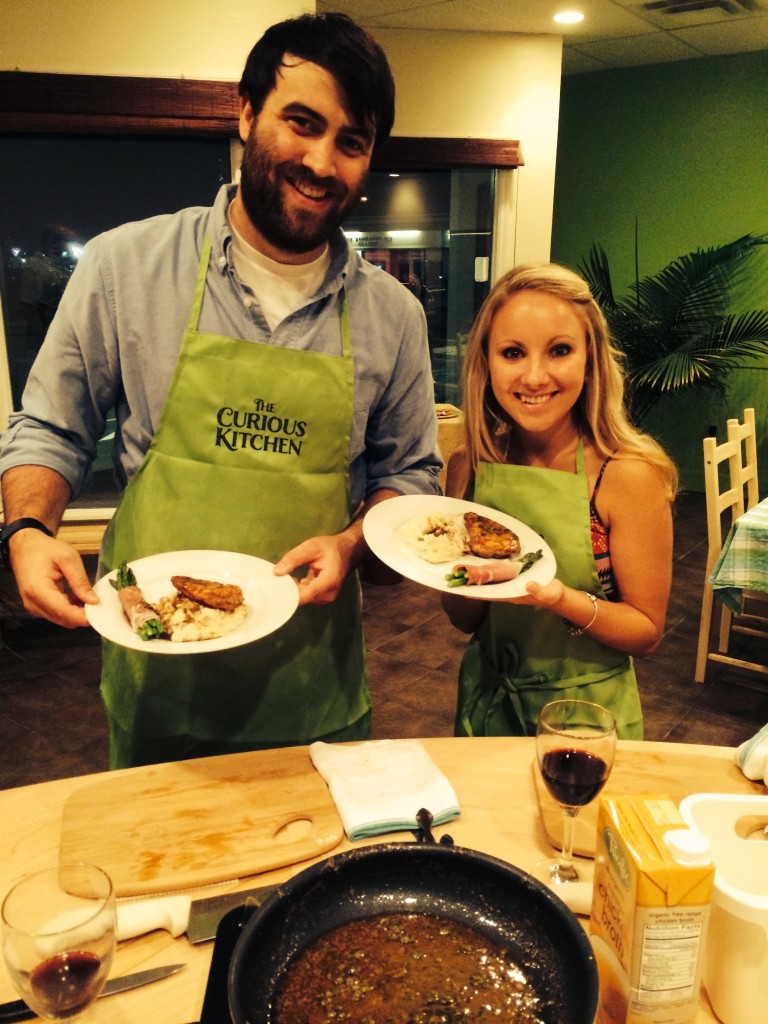 Join us for a culinary experience in a hands-on Cooking Class at The Curious Kitchen! We welcome everyone, regardless of skill level, to enjoy a fun & delicious three hour cooking class. Sign up here!
The first part of a cooking class at The Curious Kitchen takes place around our custom-built instructional table, providing optimum view of the chef/instructor.  Each guest is equipped with their own cutting board, cooking station and "mise en place" (French for prep).  Our classes can hold up to 16 participants, to ensure a quality experience. After the meal is prepared, guests sit down to enjoy the food they've made! 
Our cooking class calendar has something for everyone! From Baking 101 to Sushi Rolling and Fresh Pasta Making to Date Night Cooking Classes…What don't we do?  We offer classes for adults, kids and the whole family.  We even have a Beginner Series, for the novice chef.
The Curious Kitchen provides each student with all ingredients, supplies, aprons and equipment they will need for each class. C omplimentary wine or specialty cocktails are paired with each Adult class.
Classes are $65/adult and $50/child.
Private Cooking Classes & Team Building
Private cooking parties are a unique way to get your friends, family and co-workers together for a culinary night of cooking & eating.  Private classes are reserved for your group only. Whatever the occasion; birthday party, team building event, or a fun night out with friends, we can accommodate your group at The Curious Kitchen. Simply choose a menu, pick a date & time and we'll take care of the rest! Don't see the menu you want?  Give us a call and we'll customize a unique menu for your class.
*Private parties are for 10 -16 people
*$65/pp for adult classes and $50/pp for kids classes
Menu Options
A TUSCAN FEAST
Italian Chopped Salad
Pollo al Limon
Parmesan Oregano Potato Casserole
Roasted Asparagus with Balsamic Glazed Tomatoes & Feta
Tiramisu Cupcakes
MAMA MIA COOKING CLASS!
Stuffed Garlic Bread
Mixed Green Salad with Homemade Buttermilk Dressing
Spaghetti & Homemade Marinara
Hand Rolled Meatballs
Double Chocolate Brownies  
TOTALLY THAI
Spring Rolls with Thai Sweet Sauce
Thai Sesame Cucumber Salad
Vegetable Pad Thai
Chicken Satay with Peanut Sauce
Coconut Rice Pudding  
SEAFOOD FAVORITES
Ahi on Cucumber Rounds
Clams Casino
Sauteed Scallops
Saffron Risotto with Edamame
Key Lime Souffles
RAGIN' CAJUN
Creamy Cool Cucumber Salad
Crab Cakes with Cajun Remoulade
Shrimp Creole over Cheesy Garlic Grits
Warm Bread pudding with Whiskey Hard Sauce  
FAR EAST CUISINE
Avocado Egg Rolls with Sweet Cilantro Sauce (these are so good!!!)
Butter Lettuce & Cucumber with Ginger Sesame Dressing
Tuna – Perfectly seared with a Sesame Crust
Wasabi Mashed Potatoes
Mango Upside Down Cake with Green Tea ice cream  
DATE NIGHT: A ROMANTIC COOKING CLASS
Rocket Salad with Pecan Crusted Goat Cheese
Chicken Piccata
Garlic Mashed Potatoes with Parmesan
Roasted Asparagus wrapped in Prosciutto
Chocolate Souffles
Suggested Pairing: Moscato  
THE BEST BREAKFAST
Buttermilk Biscuits
Mastering the Omelette (variety of fillings)
How to cook bacon & sausage
Easy French Toast or Blueberry Pancakes
Fresh Squeezed Orange Juice  
Don't see what you want?
Let us know what you want & we will customize your party!!