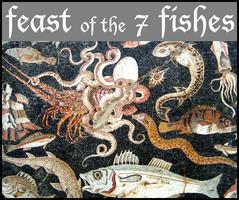 For a Holiday that holds high in tradition, why must we ask ourselves every year- what are we eating for Christmas Dinner?  Maybe it's because we're burnt out on Thanksgiving must-haves like Turkey & Stuffing which are practically engraved in our dinner table.  Sure, some Christmas chefs dive right back into Turkey, and that's fine and dandy, but we like to do something a little different.
At our house we cook a traditional Italian meal called The Feast of the 7 Fishes. Originating from Southern Italy, you guessed it, it's a feast that includes seven different fishes. There are many hypotheses for what the number "7" represents. Seven is the most repeated number in the Bible and appears over 700 times. Other theories state that the number '7' represents the Seven hills of Rome that surround the city.
Whatever the seven fishes stand for, we can all agree, it's a delicious meal.  This year we prepared Oysters on the Half Shell, Homemade Calamari, Clam & Fish Chowder, Caviar en Croute, Sesame Salmon Filets and Brown Butter Scallops.  Yummy!
What are some of your holiday traditions?